Salomon TechAmphibian 3 Women's Water Shoes
JR1SaTeAmphW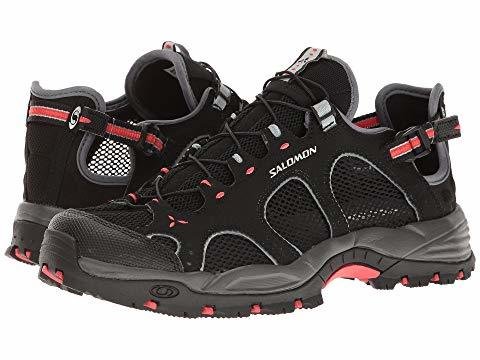 The Salomon Techamphibian 3?shoes are ideal for a high-activity game or a speedy run across a wet or murky turf. With an upper constructed in anti-debris mesh, these shoes block entry of dirt. This design also quickly drains out slush and water. With a breakaway lace closure, your feet stay firmly secure within. Additionally, external elements like dirt and water are prevented from seeping through. Fitted with adjustable heel straps, you can customize for a perfect fit. The Non-marking Water Contagrip soles do not leave dirty imprints. Complementing the outer, are the die-cut EVA insoles, which wrap your feet in comfort.
Fit:
This style tends to run small. For an accurate fit we recommend purchasing a 1/2 size larger than you typically purchase. For example, if you normally purchase a size 7, we recommend purchasing a size 7 1/2.
Upper: Mesh
Color
Black/Darkcloud/Papaya (0) Stormy Weather/Eggshell Blue/Black (0)
Size
5 (0) 5.5 (0) 6 (0) 6.5 (0) 7 (0) 7.5 (0) 8 (0) 8.5 (0) 9 (0) 9.5 (0) 10 (0) 10.5 (0)
Website by Bad Bunny Designs. © Just Roughin' It Adventure Company 2019.