MSR Windburner Personal Stove System
JR1msrwbpss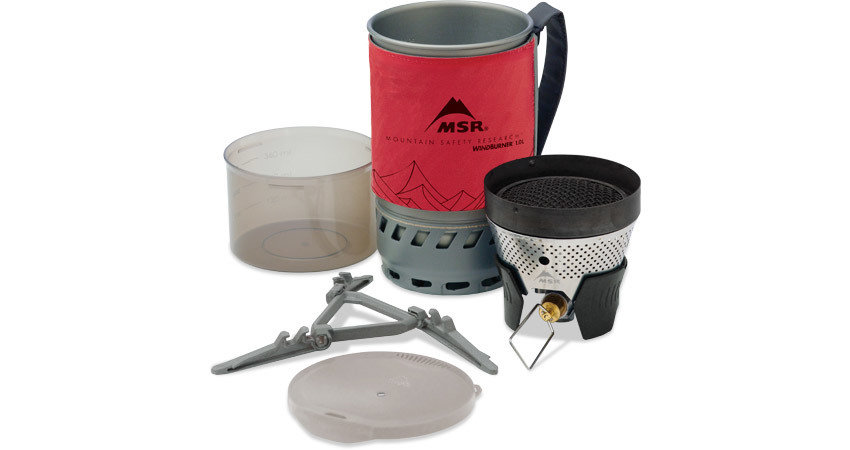 Windproof, modular personal stove system for soloists, minimalist trips and fast-boil meals.
Combining award-winning Reactor® technology with the features solo travelers need most, the WindBurner Stove System is ideal for backcountry adventures and weekend camping alike. Its radiant burner and enclosed, windproof design allow the stove to boil water fast and operate in weather that leaves conventional burners in the cold. The integrated cookware with built-in heat exchanger efficiently transfers heat to the lock-on pot so you can enjoy a quick meal or hot drink after a hike, ride or paddle. The all-in-one system nests inside its pot for easy packing and assembly—leaving more time for you to enjoy your adventure.
Ultra-Efficient: Windproof radiant burner and pressure regulator maintain stove performance in windy and cold conditions; faster boil times & more fuel efficiency than conventional stoves.
Compact Nesting: System perfectly nests components inside the 1.0 L pot, with extra full-sized bowl snapping onto the outside.
Compatible: Fits 1.0 Personal Pot, optional 1.8 Duo pot & other compatible WindBurner cookware. Not for use with WindBurner Stock Pot or Sauce Pot.
Secure: 1.0 L pot with handheld design locks onto stove and canister.
Features
Radiant burner with boil-to-simmer control
Pressure regulator for consistent performance
1.0 L hard-anodized aluminum pot with integrated heat exchanger & insulated cozy with handle
BPA-free drinking/straining lid
0.5 L integrated bowl
Room to nest optional 4-oz MSR® IsoPro™ fuel canister (sold separately)

1.0 LTR
Color
Black, Red
Width (Standard)
4.2 in
Width (Metric)
10.5 cm
Weight (Standard)
15.3 oz
Weight (Metric)
0.43 kg
Length (Standard)
4.5 in
Length (Metric)
11.5 cm
Height (Standard)
7.1 in
Height (Metric)
18 cm
Burn time (MSR IsoPro) per 227-g / 8-oz. canister
Appx. 95 minutes
Water boiled (MSR IsoPro) per 227-g canister
18 liters
Water boiled (MSR IsoPro) per 1 oz. of fuel
2.3 liters
Volume (Metric)
1.0 liters
Boil time (MSR IsoPro), 1 liter
4.5 minutes
Country of Origin
Made in USA of US and Foreign Parts
Website by Bad Bunny Designs. © Just Roughin' It Adventure Company 2019.