GSI Martini Glass
D76F1WGCEJ63P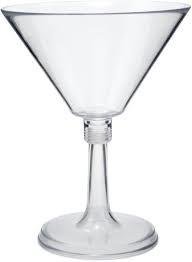 These lightweight, nesting martini glasses go anywhere with their unique stem design that unscrews and allows the bases to be compactly snapped into the bowls for storage. Super lightweight and nearly indestructible, the BPA-free copolyester material will serve you for many more summits to come.

FEATURES:
Made of copolyester plastic, these nesting martini glasses provide excellent impact resistance and are suitable for both warm and cold beverages
Copolyester is BPA free
Glasses unscrew at the midpoint of the stems so that the bases can be snapped into the bowls for easy packing and storage
Martini glasses hold 10.8 fl. oz.
PRODUCT SPECIFICATIONS
MAJOR DIMENSION: 10.8 fl. oz.
WEIGHT: 3.1 oz.
DIMENSIONS: 4.75 x 6
PRODUCT USE:
Car Camping
Destination Camping
Gourmet Backpacking
RV and Travel Trailer
INCLUDES:
Nesting Martini Glass with Base
Website by Bad Bunny Designs. © Just Roughin' It Adventure Company 2019.