GSI Glacier Stainless Cookset - SM
W88PWV9N3XGMP
The Glacier Stainless Cookset series offers a line of heavy-duty, indestructible, backpack cooksets that get the job done. Brilliant, rust-proof pots and pans and strength that only stainless steel can provide, Glacier Stainless is the material of choice for cooking over coals or campfire.
FEATURES:
Lightweight, nesting design with dual-use frypan/lids packs small, travels easily and withstands abuse.
Exclusive DiamondBack Gripper attaches securely to exterior brackets while preventing scratching of both interior and exterior pot finishes.
Rolled rims for increased stiffness and durability.
PRODUCT SPECIFICATIONS
MAJOR DIMENSION:

SM

WEIGHT:

31.9 oz.

DIMENSIONS:

7.70'' x 7.70'' x 4.80''

MATERIAL:

Stainless Steel
PRODUCT USE:
INCLUDES:
1 qt. Pot
1.5 qt. Pot
2 Dual-Use Frypan/Lids
2 Cutting Boards
DiamondBack Gripper
Mesh Bag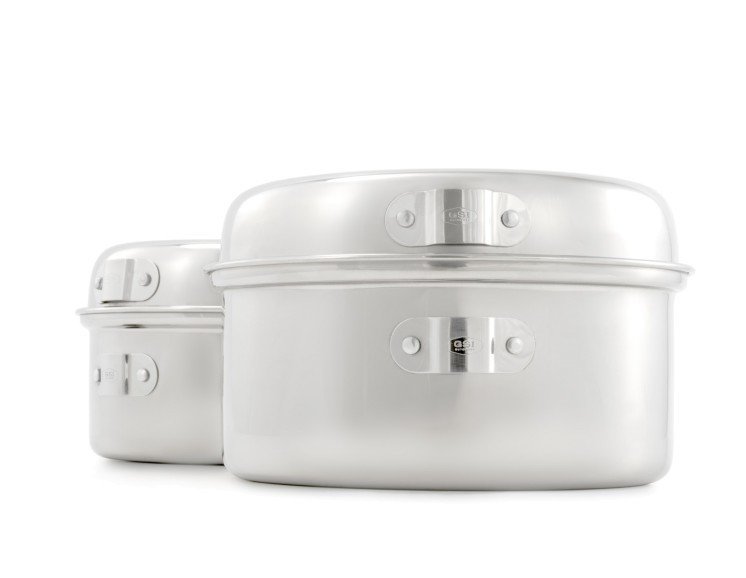 Website by Bad Bunny Designs. © Just Roughin' It Adventure Company 2019.